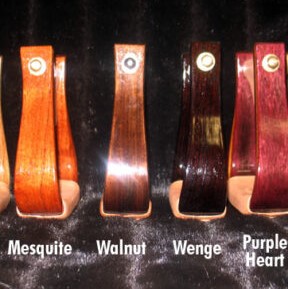 Nettles Stirrups Wood Types
Besides constructing stirrups in red oak, we also build stirrups in other woods which puts them in a class of their own.We use a primary stock of five exotic woods, but we are always on the look-out for that special wood to create an absolutely gorgeous yet functional stirrup.
RED OAK
A slightly coarser textured wood than white oak, Red Oak is accented with smaller dark colored rays and large rounded open pores. It is uniform in color and is the basic wood used in building Nettles Stirrups.
MESQUITE
Mesquite has survived the rugged Texas landscape since before the Spanish Conquistadors set foot on North America. Native Americans ground the seed pods to produce a meal called pinole and they used the bark to create medicine, baskets and fabrics. It is a remarkable wood known for its beauty, Strength and tenacity and makes a gorgeous product, from floors to cabinets to stirrups. However, while other products can work with the flaws in mesquite, mesquite woods without flaws is necessary for stirrups, making them that much more of a prize to own.
WALNUT
Walnut wood makes exquisite stirrups. Not only is it rich in color, it is also easy on the feet.  Known for its excellent shock resistance, Black Walnut is regarded as the most beautiful and most valuable cabinet wood in North America. Black walnut is primarily grown in the central and Appalachian state.
PURPLE HEART
A Central and South American tree that is brown when freshly cut, but oxidizes to a violet purple. While the wood is heavy and usually finely textured with a straight grain, it is also noted for its wide variation in color, texture, and density, all depending on the tree. In fact, because of its good mechanical properties and durability, purpleheart is used for heavy outdoor construction such as bridges and dock work. A dye produced from the wood is used for textile fabrics. The purple color is deceptive, however, changing to a dark brown patina with age. Purple Heart is noted for its ability to finish to a glossy, lustrous finish, making an absolutely gorgeous stirrup.
WENGE
Dark brown to black in color, Wenge is a heavy, coarsely textured wood with bending and shockresistant properties similar to ash and hickory. Since it is hard and heavy, it is an excellent source for handles and carving, and also for designer stirrups. Wenge grows in open forests in the southern regions of Tanzania and Mozambique. It also appears in the Congo region in periodically inundated swampy forests.
We have also build stirrups using Black Walnut, Bodark, English Yew, Bloodwood and Padauk woods. Do you have an exotic wood in mind not listed here? Let us know. We will design you a one of a kind stirrup to your specifications.